Why Prefer MDF Board Over Wood?
There is a common perception that wood is comparatively stronger than MDF Board. This is because people find wood to be strong and sturdy, but the truth is in many cases, an MDF board might be a better choice.
Much before we talk about the benefits and advantages of using MDF Board over wood, let's first know what MDF Board exactly is. MDF stands for Medium-Density Fibreboard. They are thin panels made using wood fibre, wax, and resin. It's a level above plywood and is denser and more durable.
MDF Board wardrobes and cabinet doors are becoming popular today for a variety of reasons. So what exactly are the advantages of the MDF board?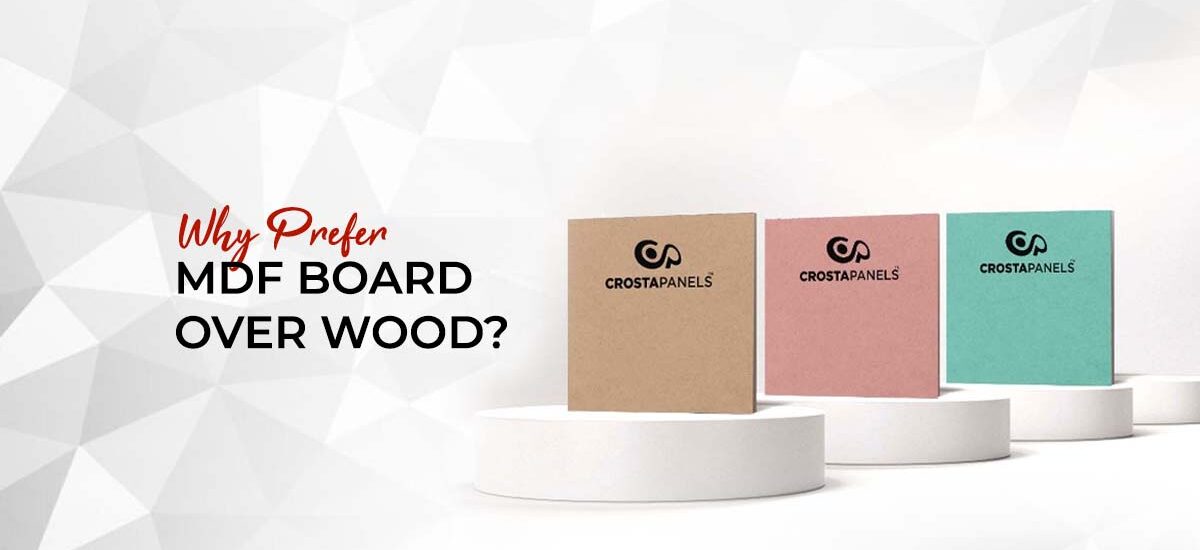 MDF Board Advantages
---
Won't Warp or Crack Easily
One of the biggest advantages of MDF Boards is that they won't warp or crack easily at high temperatures and moisture in a place, unlike real wood. On the other hand real wood expands and contracts as per the environment it is used in. For instance, two wood pieces are used on your skirting and join, then in case of any slightest changes in the environment, the shape and distort, causing the ruin of that perfect joint.
Durable
The high durability of MDF over wood is another major benefit to count on. Since it is made using thin panels made using wood wax, resin, and wood fibre, it is more durable, denser, and stronger. It is the durability that MDF board offers, making it suitable for any area within the home, especially in home nooks that require extra protection from moisture.
Easily Customizable
MDF doesn't show any imperfection like splinters or knots unlike real wood, allowing easy painting. Many kinds of wood don't have a uniform surface colour, and you'll have to paint extra coats to make it more consistent. But since the knots in the wood are way darker than the wood's real tone, they tend to show up even after multiple paint coats.
Also, thanks to its fab structure that allows the ease of customization. This is what enables easy cutting and drilling of MDF boards thin MDF boards, without any kind of damage. This means that you can get your skirting board designed the way you wish and achieve the desired modern or traditional look.
MDF is Cheaper than Wood
MDF is cheaper than wood and even plywood. If you are to use higher grade plywood then it becomes more expensive as it is aesthetically pleasing compared to cheaper lower grades.
This is why MDF's popularity is skyrocketing especially in domestic areas. MDF lasts longer than wood and you won't even have to compromise on style. As house owners we all know, making and maintaining houses isn't easy anymore, so what's better if we can save a bit by investing wisely in materials like MDF boards.
Offer Termite and Insect Resistance
Their MDF boards are manufactured to perfection that makes them suitable for use in homes even in spaces that are likely to be affected by insects. MDF boards are chemically treated to perfection which makes them a preferable choice for resistance to insects and termites.
Final Takeaway
So, now that you are aware of the numerous benefits of MDF Board, it's time that you use it in shelving, inside cabinets, on bookshelves, or just anywhere for the great aesthetic appeal and that too at pocket-friendly prices.
If you are looking for stylish, durable MDF it's time to visit Crosta Panels today. They offer an MDF variety that outperforms real wood.