Know the Various Benefits of Using MDF Board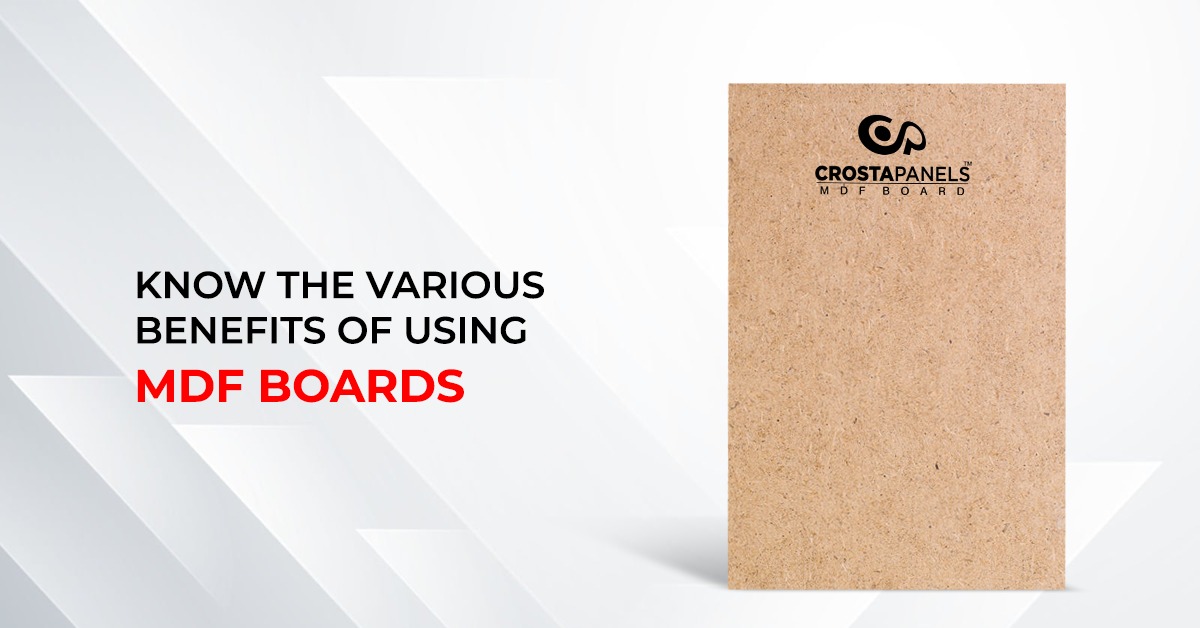 We live in a constantly evolving materialistic world that evolves to meet our growing needs and desires. To enhance our comfort, meet our necessities and meet a luxurious lifestyle, we employ a variety of things.
One of the first things required for today's easy living is furniture. Wood is being used over the ages to make a variety of furniture for different commercial and residential projects. Among the huge variety of furniture panel materials available, MDF is gaining a lot of popularity. When asked to choose between MDF board and solid wood, most people choose solid wood, but today, we tell you why MDF makes a great choice.
What is MDF?
Medium Density Fibreboard. MDF is made when the wood fibre sheets are amalgamated under high heat and pressure conditions with thermosetting resins to make a board with a consistent and close-packed fibre distribution. This engineered wood today has become reliable and pocket-friendly because of rapid technological and industrial advancements.
Uses of MDF Board:
Due to its high density and high-grade composite materiality, strong MDF Board is used in a variety of ways.
Residential & commercial construction and furnishings
Cabinets and shelving
Roof materials
Decorative items
Doors and door, window frames
Flooring
Soundproofing
In the construction business, MDF has become one of the most significantly used sheet materials. We know about the MDF board's popularity, let us take a closer look to know why we should use it.
Benefits of Strong Medium-Density Fiberboard:
Cost-Effective and Easy Availability
MDF production Is less expensive than genuine wood and you get the look of real wood without spending a lot of money. Also, it's more affordable than plywood or any other type of wood. MDF is economical because it is easily available and isn't heavy on anyone's pocket. You can find it easily in any specific size opposite to oak, rosewood, maple, etc.
High-Density Material
MDF is a precisely engineered material with no grain in it. It undergoes no splintering, scorching, or wear and tear on getting cut with a router, scroll saw, band saw, or jigsaw. Thus, cutting it is feasibly easy without damaging it as it is not a natural product.
High Strength
MDF is a composite material of high quality and is made of resins and wood fibres. To make dense and sturdy sheets, it is first pressed and later pressurized. Thus, MDF, unlike wood, doesn't easily warp or crack during its production.
Stable, Durable, and Sustainable
MDF is a relatively stable product, long-lasting product that is sturdy, and durable with a good fire resistance rating.
Ideal for Painting and Layering
MDF has a smooth, painting-friendly surface as it doesn't have any specific grain, texture, or knots. An MDF sheet can be hefty, smooth, and even, with a flat, paintable, or sealable surface. You can cover MDF panel board in laminates or wood veneers to give them a real-wood alike look. In other words, MDF is the greatest replacement for real wood.
The Best Material for Cabinetry
Most engineers and manufacturers use MDF to make cabinet doors because of its flexibility. varieties of You can choose from a variety of MDF that are moisture-resistant, making them ideal for use in high-moisture areas like kitchen and bathroom furniture.
Environment Friendly
Another undeniable fact is that MDF is eco-friendly and is produced in a way that decreases virgin wood material costs. MDF is made entirely of plantation wood while ensuring that trees are cut down in the process.
Termites and Insects Resistant
Top MDF manufacturers in India, make MDF by gluing layers of wood fibre together and the glue used to make MDF also works as a termite inhibitor. This is why MDF is resistant to termites, borer, and fungus.
Wrapping Up
Clearly, the MDF board has various benefits to offer and this is why it is constantly becoming more popular. If you are looking to get hands-on quality MDF board for construction or decorative purposes. look no further than Crosta- The best MDF Manufacturer in India.