Enhance the beauty of your interiors with MDF board wall mouldings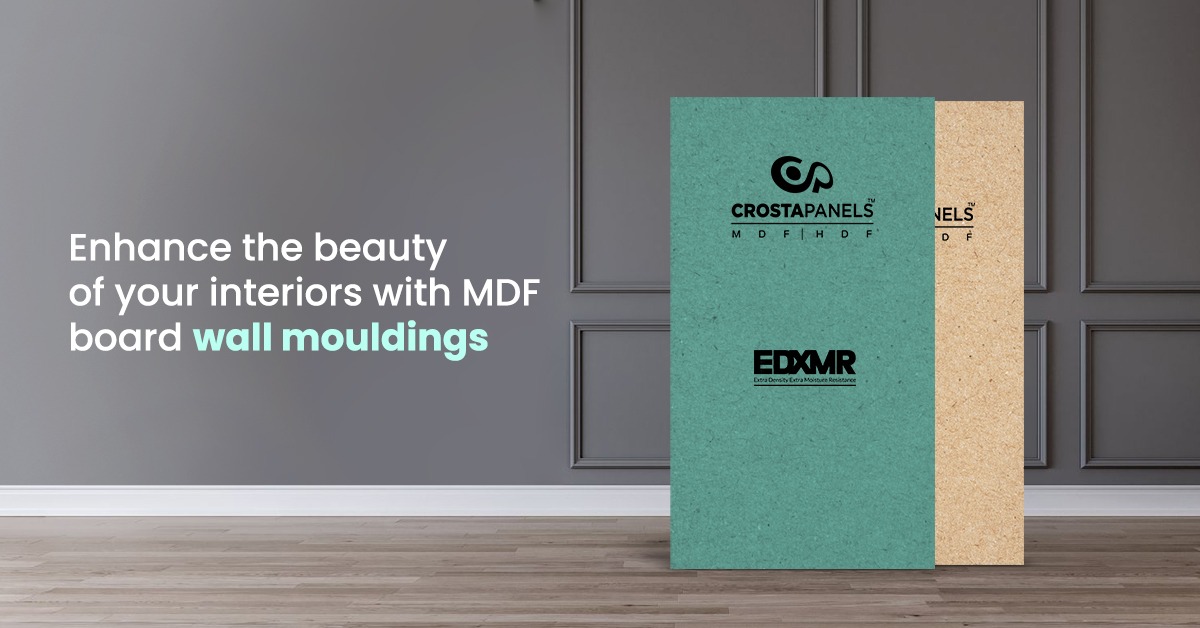 Are you thinking of renovating your interiors? Decided everything but need clarification about your walls? Then, we have the solution for you. Add wall mouldings to your interiors and spruce up the aura of your home. You can utilise a variety of furniture materials, from expensive to affordable, to turn your home into the home of your dreams thanks to modern architecture. And when mouldings are installed, everything, including walls, ceilings, doors, and entryways, looks nicer. The look of a space can be quickly altered with the use of wall moulding designs. Mouldings can be used ornamentally to add a dark and vivid pattern to a plain surface. Cracks and gaps in the wall surface can be successfully concealed by it. It is also used to adorn your walls and make a strong style statement.
Why the MDF board in Yamuna Nagar for wall mouldings?
Mouldings are any applied material used to cover or embellish a wall, frequently composed of plaster, wood, or wood substitutes like MDF. Since it can be applied in strips to the ceiling, baseboard, or any other part of the wall, it is also known as strip moulding or trims.
Choose the MDF board in Yamuna Nagar if you want the most affordable trim material. MDF lining boards in Haryana are regarded as the greatest material for moulding since they can be moulded into a variety of forms with ease, their smooth surface makes it possible to paint them for the best finish, and they also offer flexibility.
Different design mouldings ideas to craft with the best MDF Board by us
Chair roll wall moulding
The chair rail is extremely sleek and clean-cut for perfectly correct proportions. These mouldings, which are traditional and elegant, may be seen in the majority of traditional-century homes. They can frequently be seen in stairwells, corridors, mudrooms, dining areas, and living rooms. You can contact the best MDF board manufacturers in India for wall moulding needs.
Crown wall moulding
Ancient Greeks and Romans used crown moulding. It is a utilitarian and aesthetic trim that is typically seen where the top of a wall meets the ceiling. Crown moulding is now found in residences of various architectural styles. The best quality MDF board in Haryana that we produce is the best option for creating sturdy wall mouldings.
Baseboard wall mouldings
In the majority of homes, baseboard moulding is standard. Baseboards connect the floor to the wall trim. When paired with quarter-round or other types of trim, they can be straightforward or elaborate. Typically, baseboards are thinner than casings. For a unified, coherent appearance, combine the two. The MDF panel board in Yamuna Nagar produced by us is the most effective for this type of wall moulding.
Casing wall mouldings
Most homes come equipped with casing or architraves moulding, which is used to hide the space between the drywall and a door or window frame. Your home's decor will determine its appearance. Walls are shielded from furniture damage by chair rails. Chair rails are frequently used for aesthetic reasons.
Why choose the MDF board in Yamuna Nagar for your MDF needs?
The MDF boards that we craft are the thinnest, easy to work with and are the strongest. Your wall moldings will be sturdy and look aesthetically pleasing if you use our best quality MDF panel boards. Get in touch with us and we will fulfil your MDF needs.